MANATEE SEASON!
Florida Adventure Tour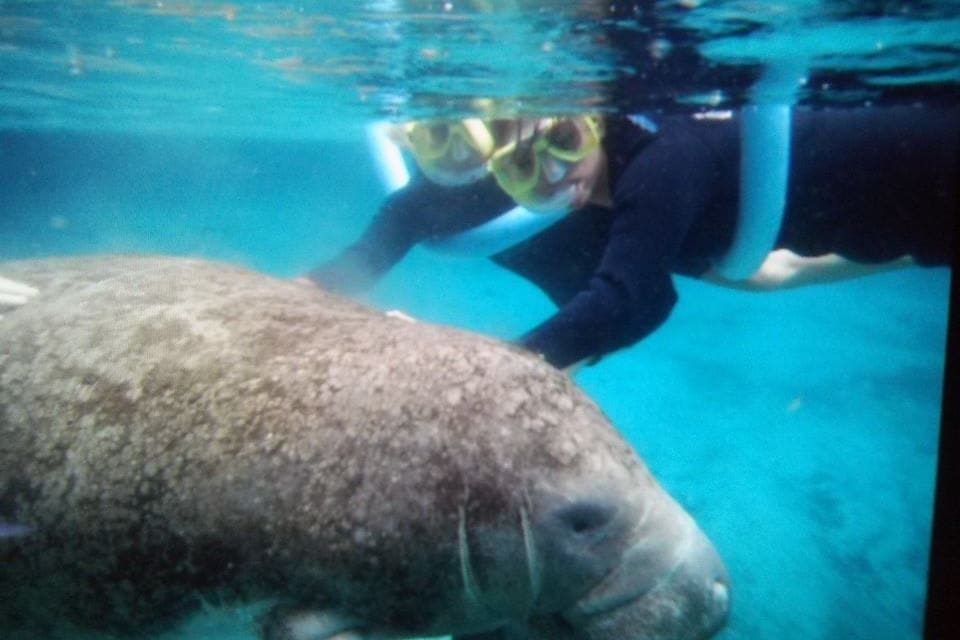 TOUR DESCRIPTION
A perfect opportunity to escape from the theme parks and see what Florida is really all about! Discover the best part of Florida with our Florida Adventure Tour. Spend the day relaxing and taking in the natural beauty of the Crystal River area.
Our ECO tour will take you to Citrus County, Florida, home to some of the most beautiful spring-fed rivers in the state. You will get to experience Crystal River, Homosassa River, and Withlacoochee River. Take a boat ride up Crystal River to Hunter Spring or Three Sisters Spring. Then Jump in the river to begin Snorkeling. Manatees are often seen near the springs.
Back on dry land and we head for the Homosassa Springs State Park. Enjoy Lunch while you explore the Wildlife Park. Finish the day with an airboat ride on the Withlacoochee River. Bagged breakfast & lunch provided with on-site dining available!
Round Trip Transportation from Orlando
Guide Pontoon Boat Adventure on Crystal River
Homosassa State Wildlife Park
Airboat Ride
Breakfast and Lunch
MORE INFORMATION
Florida Adventure Tour
What's Included:
Round trip transporation from Select location in Orlando
Guided pontoon boat cruise on Crystal River
Use of Snorkel and Mask
30 Minute Airboat Ride
Bagged breakfast and lunch
Additional Information:
Once in a lifetime opportunity to interact with an ENDANGERED species. Citrus County FL, where the Crystal River is located, is the ONLY location in the entire USA that you are LEGALLY allowed to have interaction with manatees in the wild.
Wetsuits are available for rent locally ($10.00) and act as an excellent buoyancy aid.
Clients are encouraged to wear their swimming outfit underneath their morning clothes to aid in quick departure out on to the Crystal River.
Crystal River is lucky to have a group of approximately 80 manatees that stay all year round. During the colder months, an additional 300 more join them! The constant 72-degree (F) temperature of the spring-fed river and abundance of underwater plant life make it the perfect habitat for the manatees.
The manatees in Crystal River are wild animals and, as such, we are unable to guarantee interaction. However, our expert Coast Guard-certified boat captains will do everything they can to make this happen.
Homosassa Springs State Wildlife Park is home to wildlife indigenous to Florida and is known as a rehabilitation sanctuary for injured Florida wildlife. The only exception to the indigenous rule is their resident hippopotamus "Lou." Lou has been granted honorary Florida citizenship by the State of Florida and calls the park his home.
Cancellation Policy
Free cancellation up to 24 hours before the activity starts